The popularity of Brave is exploding, and it's not just because they are paying users to use it . Read below why it might make sense for you to switch to Brave and how to get started.
There are a few users to consider switching to Brave:
Built-in Adblocker
Earn crypto from using it
Crypto wallet integration
Support for all Chrome extensions
User base is growing
Adblocker / shields
Brave has an adblocker built in to the browser which is enabled by default. It's refreshing to see websites without ads. Sometimes I have to toggle the adblocker off though, as it prevents popups from being displayed or website functionality to work properly. But once you know this, it's an easy fix.
Earn Basic Attention Token
Basic Attention Token (BAT) is Brave's crypto token. It's what is used in their eco system by advertisers to pay for eyeballs to their ads, and by users (like us) to be rewarded for looking at these ads.
Users are showing a very manageable amount of tailored ads as notifications. Users are paid BAT depending on how many ads they view. The more you browse, the more ads you will be shown, and the more you will earn.
It may not seem like a lot – however the price of BAT keeps rising and perhaps these BAT tokens will end up being worth more.
Integrated crypto wallet(s)
I like that Brave comes with a native crypto wallet. This wallet is similar to MetaMask:
Users can buy, sell and trade on Ethereum-based blockchains
Store and view NFTs
Use dashboard features to see cumulative holdings
Enjoy web3 features, such as the ability to sign into websites
And best of all – it is much lighter on resources compared to MetaMask and apparently features better protection agains NFT scams.
Recently, Brave announced a partnership with Solana in an effort to onboard Solana users. Personally, I'm currently fine using the Phantom integration for my Solana NFT's as this works well. However, I may give it a try when the feature is enabled.
Chrome browser extension friendly
Aside from Phantom wallet, I use a fair share of other extensions with Brave such as 1Password, MetaMask and other wallets. This is possible because every Chrome extension is compatible with Brave.
This may sound strange, but give it a try. I have yet to come across a popular extension that does not work on Brave.
Brave market share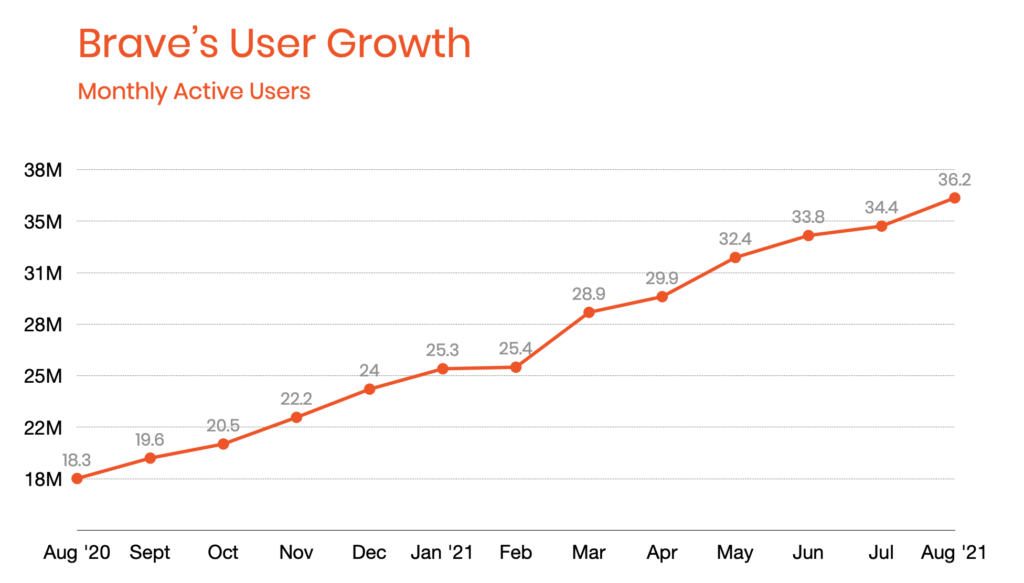 Brave now has roughly 20% of Firefox users and as you can see from the chart above, is growing in active users on a monthly base.
The ads are getting better too (never thought I would ever say this). Previously users would only see crypto-like ads, for products such as BlockFi or Ledger. Now, bigger advertisers such as Lufthansa are jumping on board.
I'm no fan of ads, but relevant ads which are obtrusive are OK in my book.